Interactive Laser Maze
Laserlight Mission "Possible"
World's first TÜV-approved laser maze challenge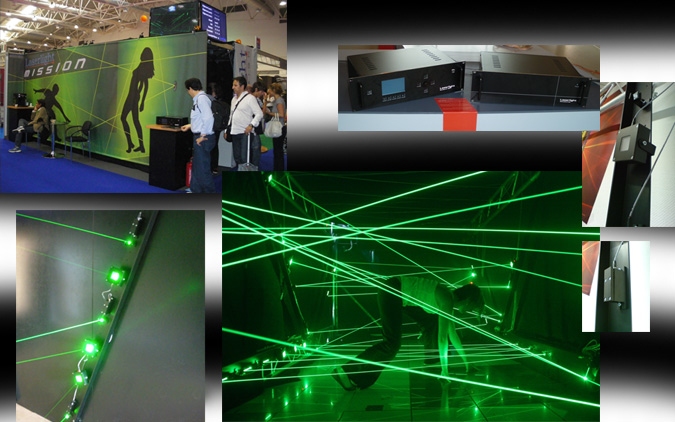 Photo: Countless laser beam obstacles have to be conquered. As mobile setup or fixed installation.

Do you dare to pass the laser obstacles without touching? In the shortest possible time? This laser mission is tough! As a world's first Laserlight Showdesign succeeded in creating this unique game experience with TÜV-certification for unattended operation in amusement parks, museums or indoor playgrounds. Equipped with a coin acceptor this installation pays itself off in few months. This game is addictive and encourages to beat the highscore again and again.
New: The interactive laser maze "Laserlight MIssion" can now also be rented on a daily basis. Including a mobile "laser tunnel".
Video:
Features:
highly variable and expandable laser mission (laser maze)
different game variants
laser room can be very individual in size and orientation
variable number of laser beams
moving laser beams with programmable movement pattern (SD card slot)
central control unit with safety controller
multimedia controller (Laserlight ShowServer) for fog, sound, lighting and video effects
customised programming possible
easy to use settings menu for game parameters and effects to be modified by customer
power failsafe and displacement safe
automatic haze sensor for constant visibility of the laser beams - controling and regulating
new: TCP/IP remote control via network
made in Germany - no import system
TÜV laser safety certificate available (laser classes 2M and 3R alternatively)
worldwide installation service available

Exemplary Technical Data:
18 laser sources
18 laser mirrors
18 laser sensors
36 single laser beams
3 game levels (6, 12 or 18 activated lasers) and random modes for an unique game experience
time logging and highscore lists for each game level
freely configurable penalty time for each beam contact per game level
settable game parameters and effect durations
fully automatical fog control for best visibility of laser beams in midair
printout of the achieved time score by receipt or label printer
sound and lighting effects at beam contact and new highscore
recognition of defects and displacement by safety controller
"Laser saver" mode for prolongation of laser lifetimes
optional coin slot for several coin types and programmable tokens
capacity of around 100 persons per hour
TÜV-certified setup, no operator required
automated operation with coin acceptor
Downloads:
Broschure "Laserlight Mission" English (PDF)
Links: